Barefut Essential Oils: Brand Review
Essential oils have endless benefits. Not only can they relieve stress and anxiety, but they're also used to shorten the common cold, relieve headaches, reduce menstrual cramps, clear acne, and give you energy when feeling weak. Now, with many brands selling essential oils, finding the right one can be quite overwhelming. Big companies often claim that they sell the "best" essential oils. However, because this isn't a regulated industry, the "best essential oil" is rather subjective.
Barefut Essential Oils – Who They Are
Barefut is among the brands that sell essential oils. It was started in 2010, as a small company to supply essential oils to spas, individual customers, and health stores in Utah.
But as the years went by, the company expanded its market through word of mouth and it now supplies these oils in all parts of the United States. This company's mission is to offer quality essential oils at affordable prices. Apart from oils, they also sell other health products like carrier oils, balms, and diffusers. Barefut claims that its products are 100% pure therapeutic grade oils which are free from impurities as well as adulterants. Continue reading this review to learn more about this company and whether you should try its products.
---

---
What Products do They Offer?
Barefut Essential Oils offers several essential oils, carrier oils, and diffusing equipment. They have both basic and specialty shingles in plenty. Additionally, they offer more blends than most top essential oil companies. For instance, instead of selling a single blend, the company offers different options like Calming, Anxiety, Peace of Mind, Stress Relief, Prosperous, etc. Thus individuals can easily find products that resonate with them. Here are some popular products from Barefut's store.
Lime- it is got by steam distilling Citrus aurantifolia fruit's peels. It's used for eliminating the skin's photosensitivity. People with burns, blisters, or inflammation from the sun can use this oil to get rid of these issues.
Peppermint- produced after the peppermint herb is steam distilled. This 100% pure essential oil has methanol included. It helps improve digestion and gives relief from discomfort caused by sinuses. Additionally, it reduces tension of the muscles and relieves menstrual cramps.
Energy Eternity Blend- this is a blend of oils from peppermint, lemon, rosemary, and eucalyptus. Applying it on your body can help relieve stress and muscle fatigue hence making one more energetic.
Uplifting Citrus Eternity Blend- this is got from blending tangerine, sweet orange, lime, and grapefruit. It is recommended for topical use as a 3-5% dilution.
---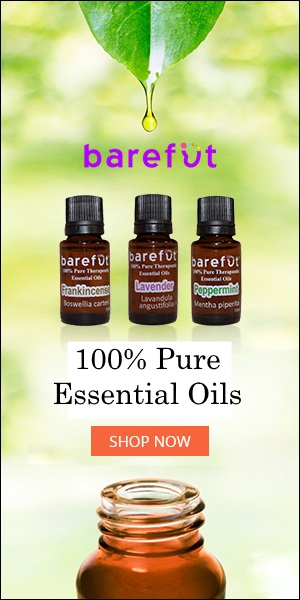 ---
Sweet Orange- It's got after the Citrus Sinensis peels are cold-pressed. It has a sweet aroma and acts as an anti-depressant. It helps reduce inflammation and relieve tension.
Clementine- it's got from cold-pressing Citrus nobilis yields peels. It has a medium aroma, antioxidant properties that help rejuvenate our bodies, and antifungal properties that help fight off infections. But, it's mostly used to fight insomnia and revitalize the body.
Lemongrass-Barefut gets it by stem distilling Cymbopogen flexuous leaves. This oil helps treat joint and muscle pain. Additionally, it helps reduce fever, relieve abdominal pains, repel insects, and stimulate milk production in nursing mothers.
Grapefruit- it's got from peels of Citrus paradisi. It helps in weight loss as it can suppress food and sugar cravings during strict dieting. Additionally, it alters your appetite hence reduce your overall food consumption. Also, it has anti-carcinogenic and antioxidant properties all of which cleanses the body.
Price Range
Barefut prices its products averagely. While they cost a bit more than the extremely cheap affordable options, still you have many affordable oils to choose from compared to other expensive brands. This is especially essential for a person who's looking for quality at reasonable prices. Here's an example of Barefut's products prices;
Singles:
Blends:
Carrier oils:
Diffusers:
Herbal teas:
They also offer coupons and discounts to their clients. Additionally, there's a reward/bonus points system for purchases. Every dollar you spend on their products earns you a point. With 10 points you get a $1 discount. To see more products click here.
What Do We Think About the Quality?
When buying essential oils, it's best to consider the quality rather than its price. Barefut claims that they sell quality oils with no added chemicals or pesticides. Their products come from pure raw materials that they get from reliable suppliers under strict inspections for impurities, dilution, additives, or adulterants. But, while their oils are 100% authentic and food-grade, the company discourages the ingestion of its products under no supervision. All of Barefut's products are recommended for external use only. Note that essential oils are extremely concentrated, a single drop ingested is equal to approximately 75 teacups prepared using similar herbs. Since Barefut is a responsible National Association for Holistic Aromatherapy member, it doesn't advise unsupervised ingestion.
Forever Young's Opinion
For years traditional medicines from plants and herbs were used to treat ailments until the modern medical system was invented. But, as time goes by, individuals are realizing that conventional medicines, while they can combat diseases, they also stress the normal functioning of the body. In most cases using medicines causes your body to become fatigued and induces other side effects. Even though patients are cured after taking these medicines, they miss out on the feel-good factor which is essential for a healthy life. As a result, many people are now combining modern treatments with traditional medicinal concoctions.
---

---
Unfortunately, getting a hold of these herbs in today's world is somehow difficult. That's, where companies like Barefut come in. Barefut essential oils is a well-known supplier of essential oils that have a huge concentration of extracts from traditional herbs and fruits. They can be safely used after diluting them with carrier oils. All their products are GC tested meaning that they're potent. Plus, this company sells various products from different plants including balms for ready-made applications of oils, carrier oils for diluting concentrated essential oils, diffusers as well as spray tools for oil application. Barefut lists all its products categorically on its website and indicates their uses as well as precautions.
Conclusion
Transparency, affordability, and quality are what make Barefut stand out from other essential oil brands. Plus, they offer several blends. If you're looking for quality mid-priced essential oils, this can be the right brand for you.
---
How to Blend Essential Oils
---
This post contains affiliate links. Please read affiliate disclosure for more info.