This post contains affiliate links. Please read affiliate disclosure for more info.
Is your mattress affecting your sleeping? Research shows that we humans spend a 1/3 of our lives sleeping. While this may sound like a lot, you need to know that insufficient sleep is an issue worldwide.
Reports reveal that 164 million Americans struggle to get some sleep every week. Experts pointed out that the source of this problem depends on your mattress. A mattress can affect your sleep by having an impact on the network of blood vessels.
When you sleep on a poor-quality mattress for an extended period, your weight reduces your body's blood flow. As a result, your skin and body organs do not receive the necessary nutrients and oxygen.
The brain will receive signals from pain sensors in your skin to roll over. When you do so, blood flow gets restored, but it also interrupts your sleep.
Want to enjoy a good night's sleep every day?
In our mattress guide, we discuss how to pick the best mattress.
Let's get started
Types of Mattresses
A majority of people do not realize how worn their mattresses are. Experts recommend that you change your mattress after 5 to 7 years. Why you may ask. After 5 to 7 years, your mattress will have already experienced 18,000 to 20,000 hours of wear and tear.
So, what are the tell-tale signs that you need a new mattress?
You wake up with pain or stiffness
You feel better sleeping on other beds and not your own
Your mattress is deformed
You wake up feeling exhausted
A good mattress means that you will not wake up in the middle of the night and will rollover less.
People have been making their own mattresses for so many years. In fact, archaeologists have even discovered mattresses that date back 70,000 years. These mattresses were made of reeds and rushes.
Thanks to technology, we have better mattresses today that promote posture and quality sleep.
---
---
Memory Foam Mattress
If you are searching for a mattress that offers excellent comfort and support, then a memory mattress is for you. As a wonderful choice, especially for side sleepers, memory foam mattresses contours to your body. As such, it ensures you are partially surrounded and supported.
Often referred to as viscoelastic polyurethane foam, experts recommend that you buy a 12-inch thick mattress. It should have a 6 to 7-inch base plus a comfort layer. You can go for a 10-inch mattress, but this is suitable for people who sleep on their backs.
Pocket-Sprung Mattress
As the most popular type of innerspring mattress, pocket sprung have individual springs. These springs are usually wrapped in a fabric pocket. They allow the springs to work independently from each other.
As such, they provide a greater level of personalized response and support. Unlike the open coil mattresses, pocket sprung models do not move as a unit. This prevents roll together and also reduces the transfer of movement to other parts of the mattress.
Latex Mattress
Durable and comfortable, latex mattresses are among the most popular types of mattresses. The reason why they are popular is that they conform to your body just like memory foam. Also, they bounce back.
What you need to know is that latex mattresses are eco-friendly. This is because no harsh chemicals are generally used during production. Instead, natural latex is usually used.
Hybrid Mattress
A hybrid mattress is a type of mattress made up of multiple layers. Basically, it combines latex, memory foam, and gel. In some models, you will find an innerspring system. Thanks to the multiple layers, sleepers experience the sturdy feel of a spring mattress and the pressure relief of a memory foam mattress.
What you need to know is that a hybrid mattress offers improved motion isolation. It also provides faster response time and features acceptable warranties.
Smart Gel Mattresses
Smart gel mattresses are both soft and firm. As a result, they ensure comfort for all sleepers. Gel is usually added to a foam mattress to make a smart gel mattress. This has a different feel, unlike memory foam mattresses.
Smart gel mattresses dissipate body heat more effectively. With natural wear and tear plus regular use, gel mattresses will last a good 7 to 12 years.
Where to Shop
Which is better, buying your mattress in-store or online? Today, buying mattresses online is quickly becoming popular. In fact, experts predict that online mattress sales will overtake in-store mattress sales.
Why you may ask. First off, shopping online is convenient. In fact, you can do it from the comfort of your home, office, or even on the go. Second, there is no pressure. This allows you to browse different products comparing their prices and features. Third, online shopping saves you money.
A majority of online stores offer discounts that include free shipping. This is to entice shoppers to buy more. Lastly, a few online stores offer a simple quiz that helps to match you with the comfiest mattress.
Not only that. They also offer free set up and premium concierge delivery. Due to the popularity of online shopping, most in-store stores have set up their online stores too. As such, they offer the best of both worlds.
You can browse available mattresses online and visit the physical store to test it. To keep attracting customers, online stores and in-stores are now offering a free home trial. Some offer a one-month trial while others offer a 120-night home trial.
After the trial and are not happy with the mattress, the store will pick it up and provide a refund minus the shipping free. This covers the cost of mattress pickup.
The Best Mattresses You Can Buy Online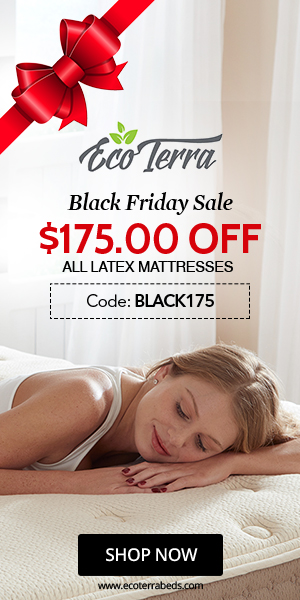 Eco Terra is latex mattress made from natural and organic materials, including OEKO-TEX Standard 100 certified, 100% natural Talalay latex from tree-tapped and sustainable sources; GOTS organic and OEKO-TEX Standard 100 certified wool; and GOTS organic certified cotton. Eco Terra is made all from natural latex foam, wool and cotton, does not contain harmful toxins or chemicals.
15-year warranty
90-day sleep trial period
affordable price
the best organic mattress on the market
long lasting
free shipping
The Puffy Lux was designed to be the perfect mattress for Back, Side & Stomach Sleepers. Luscious comfort and exquisite support for your spine minimising strain from your body's pressure points. You have never experienced sleep like this before. The Puffy Lux's Ultimate Firm Core Support Layer is specially designed to keep your spine aligned while eliminating pressure points for your comfort. You can experience warming effect during the cold winters and cooling effect during hot summers thanks to an advenced temperature-stabilizing, ClimateComfort™ layer that keeps you at an optimal temperature.
lifetime warranty
afordable price
101 night sleep trial
free shipping and returns
ranked 2020 best mattress
Sizes of Mattresses
When it comes to mattress size, they are usually designed to fit a specific need. For example, king size or queen size is best for couples or heavy persons while full, twin XL and Twin are best for single persons.
Other factors that determine the sizes of mattresses include room size, shared bed, bed size, and how active the sleeper is. Popular mattress sizes in the US are as follows:
King
Designed for couples who are either active or light sleepers, the king-size measures 76 inches by 80 inches. Thanks to the extra space, couples have room to move without disturbing each other. Before buying a king-size mattress, measure the floor space in your bedroom.
California King
Slightly narrower than a King size mattress (at least 4 inches), the California King is 4 inches longer than the King size. It also measures 72 inches by 84 inches. As such, it's perfect for couples and tall persons. This is because the mattress will ensure that a tall person's legs will not hang over the edge of the bed.
Queen
Available in the following size – 60 inches by 80 inches, a queen size mattress is ideal for couples and tall individuals. Just like the King size and California King mattresses, the queen size offers adequate space to sleepers. But without taking much room in your bedroom.
Full
Also referred to as a double, a full mattress is perfect for single sleepers looking for more space. As such, it's ideal for college students, teens, and even persons moving into their first apartments. It measures 53 inches by 75 inches.
You also have a Full XL (53 inches by 80 inches).
Twin
As the smallest size of all mattresses, it's also the least expensive. The Twin measures 38 inches by 75 inches and is perfect for adults who don't need a lot of space and children. You also have the Twin XL, which is slightly bigger than the Twin by 2 inches. It measures 38 inches by 80 inches.
What you need to know is that in the US, you can custom order your mattress outside the sizes above. Designed for RVs, and antique bed frames, custom mattress meets all your specifications.
---

---
Firmness of Mattress
When it comes to the firmness of a mattress, every sleeper has his or her own preferences. These are usually based on desires and perceptions. What you need to know is that the firmness of a mattress is not the same as support.
So, what was the initial feeling when you first sleep on the mattress? Do you feel the mattress pushing back, or do you immediately sink in? If the mattress surface pushed back, what you have is a stiff sleeping surface.
This is a firm mattress. A firm mattress is ideal for heavy sleepers, stomach sleepers, back sleepers, and people experiencing back pain.
If you lie on a mattress and experience cloud-like comfort, which immediately contours, this is a soft or plush mattress. A soft mattress is ideal for side sleepers, couples, and lightweight sleepers.
You may lie on a mattress with a balanced level push back and contour. This would be medium-soft, and it's ideal for couples, lightweight sleepers, and side sleepers.
Here is a mattress firmness chart
Mattress firmness

 

Firmness scale

 

 

Ideal sleeper

 

Firm

 

8 to 10

 

Heavy sleepers, back sleepers and stomach sleepers

 

Medium-firm

 

5 to 7

 

Heavy sleepers, back sleepers and couples

 

Medium-soft

 

3 to 4

 

Lightweight sleepers, side sleepers and couples

 

Soft

 

1-2

 

Side sleepers and lightweight sleepers

 
Thick vs. Thin Mattress
What is the best thickness for a mattress? Experts recommend that the mattress be 10 to 12 inches thick. This is ideal for lightweight sleepers, couples, heavy sleepers, people with back pain, and back sleepers.
Having a thick mattress is better than a thin mattress. A thick mattress has support and comfort layers. These play a huge role in quality sleep. But in some cases, a thick mattress is not ideal. If the mattress is more than 12 inches thick, you will sink into the bed.
This will cause unhealthy spinal alignment.
If you choose a thin mattress, you will be uncomfortable during the night. In fact, your sleep will get interrupted frequently. As such, you will wake up in the morning feeling fatigued.
---

---
Mattress Materials
The most common materials used to make mattresses include:
Foam – memory foam, gel memory foam and viscoelastic foam
To ensure the mattress offers support and comfort, manufacturers usually combine two or more of these materials. For example, memory foam includes lush layers of foam and polyurethane materials. This allows the materials to conform to the sleeper's body.
Today, mattress manufacturers add special foam layers or gel memory to relieve pressure points from your joints. Innerspring mattresses are usually made of steel coil springs wrapped in fabric. To give the mattress a firm base support, traditional cotton is generally used.
However, luxurious innerspring mattresses feature memory foam, latex, and gel memory foam materials.
---

---
How Do You Sleep (Sleeping Positions and Why It Matters)
Everyone has a unique way of sleeping. Some people prefer sleeping on their side while others prefer sleeping on their backs. Others choose to sleep on their stomach. If you sleep on your side, choose a mattress that is soft to medium-firm. The mattress will relieve pressure points on your back and neck.
If you prefer sleeping on your back, go for a firm mattress. This mattress offers the right amount of push back and support. For stomach sleepers, we recommend a medium-firm mattress. This mattress will support the sleeper's body and will not sink in the middle.
So, why do sleeping positions matter? For starters, the best sleeping positions prevent conditions such as sleep apnea and snoring. Also, choosing the best sleeping position will lead to fewer disruptions at night and ensure better rest.
Not only that. They help to reduce neck and back pain. Experts recommend sleeping on your side or back to reduce shoulder, upper back, and neck pain.
Final Thoughts
Before buying a new mattress, there are a few factors you need to consider. They include cost, warranty, brand, and your health problems. By taking into consideration the factors above, you will get to buy a mattress that improves your sleep. Also, it will alleviate your discomfort.
Remember, replace your worn mattress every 5 to 7 years.
Best of luck!